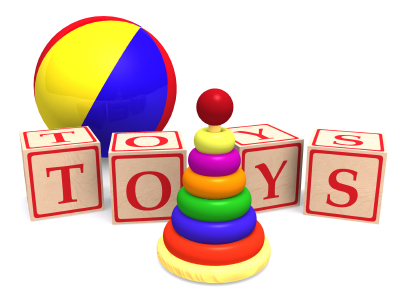 We arrive at most event childcare jobs with a van load of gear. This usually includes a ton of toys, play-sets, dolls, dollhouses, action figures, games, a huge selection of arts & crafts, costumes, speakers, playlists of kid-appropriate music, a T.V., the most popular kid's DVDs, first aid kits, baby supplies, strollers, port-a-cribs, and possibly larger items such as a bounce house. Parents (and often our own caregivers) are surprised at the amount of stuff we provide and then are dumbfounded when we say we are currently running another ten jobs at the same time. They wonder about our inventory to make that happen, so we posted a peak at part of our main warehouse and our ever-expanding inventory on Facebook. The supplies we bring, of course, depend on the number and ages of the children, and the venue's available space. Also, we have six stocked storage units spread across the country.
Angela is our amazing, dedicated buyer who ensures we continue to have the best toys and equipment. Lupe and Jordan have the mind-boggling task of cleaning and organizing the inventory, and then sorting what is needed for each unique job. These ladies manage to pull off the same magic that it takes a whole team of Santa's elves to do!
Think your group / organization has too many kids for a childcare company to handle? Bring it on!
Stay tuned for more monthly blog updates and "like" our Facebook page at www.facebook.com/CreativeChildcareSolutionsInc for more fun pictures, exciting news, and cute kid stories!